E-Bikes FAQs
Frequently Asked Questions
What is Voi?
Voi is the fastest-growing European micro-mobility operator working with Europe's cities to offer efficient, affordable transportation solutions, including e-scooters. Founded in 2018, Voi currently operates in 50+ cities in 11 countries. To date, Voi has served 30 million rides and has over 6 million regular users.
When will e-bikes be available?
E-bikes will be available to rent in Cambridge and Peterborough City centres from the 12th of January 2021.
How many e-bikes will be available to rent?
We will start the e-bike trial with 20 vehicles, and as the trial progresses, the number will increase to meet demand and support the local community to move around safely.
Do e-bikes work with the same app as e-scooters?  How does it work?
Yes, e-bikes use the same Voi app as e-scooters and the process to start using one is the same. To get started, a user needs to download the Voi app from the App Store or Google Play to create an account. A user can locate an available e-bike in the app. When the user is standing next to the e-bike, they can unlock it with the app.
Do users need a driving licence to drive an e-bike?
Yes, the same user registration process that Voi has for e-scooter also applies for e-bikes. Users must have a provisional driving license and be 18+ to ride an e-bike. These licenses can be obtained in one week, through an online application. Riders cannot begin their first ride without first verifying their licence in the app. Verification is performed by Onfido, a trusted technology that verifies users identity using a photo-based identity document.
What traffic rules apply to e-bikes?
The same rules which apply to bicycles and e-scooters apply to e-bikes.
For the launch of our new e-bikes, Voi worked with VIAS research institute and developed 8 points for safe riding. These points are based on United Kingdom traffic rules, signs, signals and general safety precautions.
Use dedicated cycling infrastructure
Watch out for pedestrians
Signal to other road users
Ride on the left side of the road or cycle lane
Obey all traffic signs and traffic light signals
Do not drink and ride
Pay attention and adapt your riding to your surroundings
Keep your distance and stay alert
Will RideLikeVoila have sections dedicated to e-bikes?
Our online schools are focused on e-scooters, but the same traffic rules that apply to e-scooters are also applicable to e-bikes (more info above).
Do you need to wear a helmet to ride a Voi e-bike?
Helmets are not mandatory, but it is safer to wear one and Voi recommends e-bike riders to wear one at all times.
How much will it cost to rent an e-bike?
E-bikes will follow a similar pricing model to e-scooters. It costs £1 to unlock the e-bike and then £0.15 per minute of usage. Voi also offers 24-hour (at £10) and 30-day (at £40) subscriptions that allow users to take an unlimited number of rides at a fixed rate.
In addition, Voi there are discounts for students, those on a low income (Voi 4 All) and NHS and Emergency workers (Voi 4 Heroes).
Are e-bikes also geofenced with no ride, slow ride and no parking areas?
Yes, e-bikes also use geofencing to ensure no ride, slow ride and no parking zones are observed. However, while the motor will slow down or switch off by geofencing, it is still possible for the user to pedal the e-bike.
Where can e-bikes be parked?
E-bikes can be parked in the same areas as e-scooters. Where there are mandatory parking rides can only be finished if the e-bike is within the mandatory parking area.
Will e-bikes have parking racks?
E-bikes will be parked in the same areas as e-scooters.
As the number of vehicles increases, we will work with local authorities to ensure the necessary parking infrastructure is in place.
What will Voi and Cambridge do to keep streets safe from e-scooter clutter?
We will work together to make sure there are clearly designated parking areas for e-scooters and e-bikes, through technology and incentives. Voi manages its fleet daily to make sure that it is not causing clutter and will be able to quickly identify any problem areas where we can look at initiatives to prevent it happening in the first place.
Will Voi e-bikes have number plates?
Yes, e-bikes will be fitted with number plates so they can easily be identified and reported.
What's the maximum speed for e-bikes?
E-bikes are assisted up to 15.5mph (25km/h).
How long can the e-bike ride before the battery needs to be charged?
The e-bike has a range of up to 50km (31miles).
E-bike specs
Swappable battery
Wheels 26''
Up to 50KM range
25km/h max speed
Three speeds gearbox
Basket to carry goods (up to 10kg) -> complementarity with e scooters
Built to last (-20C, +45C)
Bell
Front light and red rear light (when the bike turns on the lights are immediately turned on, and they turn off when the bike is parked and locked
Front brake placed on the left side near the handlebar
Rear brake operates by pedalling backwards
The Voi e-bike e is equipped with an electronic controller for the various bike components management (electric motor, battery, light system, sensors). This controller has a sensor that notifies the controller of the user's driving direction, so that it can activate the motor assistance when necessary.
I've noticed the bike only has one brake on the handlebar?
The brake located on the handlebar's left side is the front brake, to use the rear brake riders need to pedal backwards.
Are e-bikes also disinfected and fitted with copper tape on the handlebars?
Safety is Voi's number one priority. Voi's e-bikes are disinfected every 24 hours, and they are fitted with copper tape that inactivates and minimises the transmission of Covid-19. In addition, Voi provides Covid-19 advice and information via the app and encourages its users to use hand sanitiser and wear gloves.
Are e-bikes limited to the same geographical area as e-scooters?
Yes, e-bikes are bound by the same geographical area as e-scooters.
Voi uses Geofencing to create a virtual geographic boundary, enabling software to trigger a response when a mobile device enters or leaves a particular area. When an e-bike goes beyond a certain boundary, it's speed will gradually reduce. We do not stop the bike motor completely, because this could be dangerous for the rider, and they will still be able to pedal.
Users can see their locations and operating zone in the in-app map.
In Cambridge the bikes will be initially deployed in the following locations (and returned there over night by Voi staff):
Cambridge Train Station x2

Castle Street (near the Cambridgeshire County Council)

St Johns Street (near Old Divinity School, St John's College)

Newmarket Road (near the Travelodge)

Cherry Hinton Road (near Tesco Express)

New Square Park

Babraham Road Park and Ride

Tennis Ct Road (near Department of Pathology – University of Cambridge)

Park Terrace (on Parker's Piece)

Addenbrooke's Hospital (near staff car park 6) x2

Trumpington Road with Newton Rd (near Nuffield Health Cambridge Hospital)

Dame Mary Archer War (around the Addenbrooke's Hospital) x2

Trumpington Park & Ride x2

Milton Road with Lovell Rd

Kings Hedges Road with Chariot Way

Arbury Road (near Arbury Court Library)
In Peterborough they can be found at:
Cygnet Road

Station Road (near the train station)

Lynch Wood

Peterborough City Hospital

North Bank Road with Airfields Cycleway

Hill Cl

 Welland Road (near Spar and Subway)
 Maskew Avenue
Oxclose (new Royal Mail Post Box)
Audley Gate (near Royal Mail Post Box)
 Oundle Road (in front of Co-op)
Hawksbill Way (near London Rd)
Welland Road with Birchtree Avenue
Westgate with Lincoln Rd
Broadway (near Council Offices)
City Rd with Laxton Square x2
Paynels (near Virans)
 Ortongate Shopping Centre
Park Road (in the roundabout)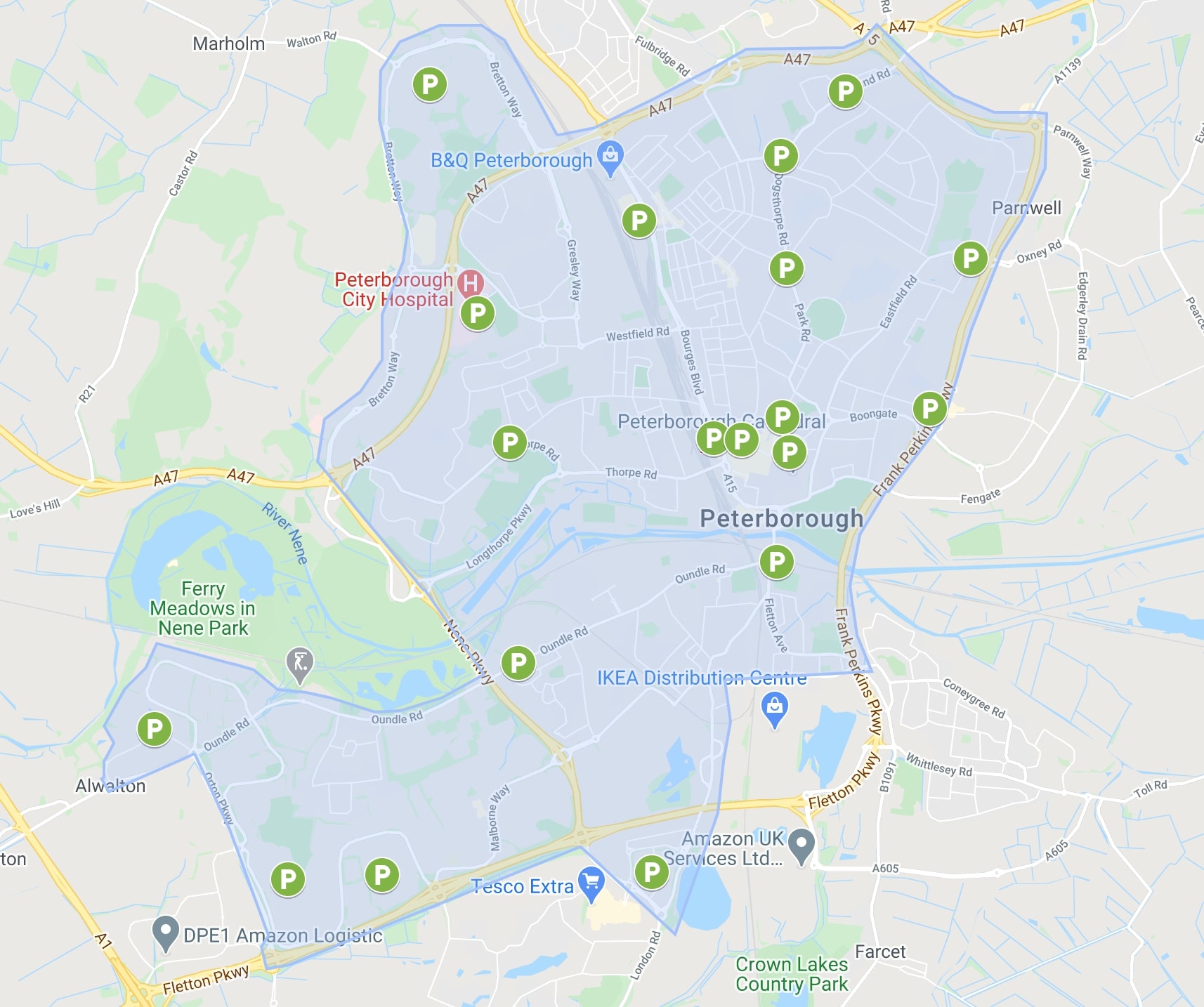 How can someone ride a Voi e-bike safely?
We believe in pushing safety through rider education. New riders can earn credits from completing modules of our Ride Like Voila traffic school. To date, more than 500K users have participated in the traffic school. Riders can also learn important tips from the Voi app. There should only be one rider per bike. Riders should follow the Highway Code, wear a helmet, avoid riding on pavements, abide by speed limits, and keep vigilant.
What is Voi doing to ensure e-bike safety in the U.K.?
Safety is the number-one priority. Voi is continually working with its partner cities and regions, including Cambridge, to assess and improve services. In the U.K., Voi is introducing new measures to ensure safe riding:
Doubling the number of on-the-ground staff to answer questions, help people, and monitor activity.
Increase collaboration with the police to ensure there is better reporting of riders who flout the rules.
Do more to keep pedestrians and riders separate by updating the slow-ride and no-ride zones.
Reinforce the message that e-bikes (just like bikes) should NOT be ridden on the pavements.
Introduce clear number plates on e-scooters and e-bikes to help identify rogue riders. Increase riding education.
Giving away free helmets.
Introduce greater deterrents to unsafe riding:

Charge users a premium for abandoning or parking a scooter in a no-parking zone.
Block users who are abusing the licensing rules, such as enabling underage riders.
Anyone caught using e-scooters illegally could face criminal proceedings. For misuse, 6 points could be added to a user's driving licence.

Does Voi ban users for flouting regulations?
Voi takes riding safely and legally very seriously. If Voi receives a confirmed report of an offence from the police, then Voi will always seek to take action against the rider responsible, such as issuing a warning or permanently removing the user from the service. To do this, Voi will ask the police for supporting information, including the date, time, and place of the offence, and, if possible, the scooter's reference code.

How does Voi work with the local police force?
Local police forces have been briefed on all aspects of the service prior to launch, and Voi's local operations in Cambridge are working with city centre police to ensure safety.
Will riders need to wear a helmet?
Helmets are not mandatory, but it is safer to wear one, just as one might when cycling. Voi believes in education and rewarding safe, responsible behaviour. During the trial, Voi is also committed to distributing free helmets to users in Cambridge. On-the-ground ambassadors will distribute helmets on launch day, and Voi will have at least one pop-up tent as a helmet distribution hub. Voi is also in talks with local bike shops, which could act as helmet distribution partners.
How can riders keep safe from coronavirus when using an e-scooter or e-bike?
Since e-scooters and e-bikes operate in the open air, they are a much safer choice for commuters than other forms of public transport at this time. To make sure the fleet is safe, we have increased our cleaning and maintenance frequencies. We are rolling out copper tape on handlebars, which inactivates 99.98% of the coronavirus. All scooters are disinfected regularly. Voi is also providing COVID-19 information and advice via its app. We encourage riders to use gloves if that makes them feel more comfortable.
How will e-scooters and e-bikes be kept clean while COVID-19 is a risk?
Rider safety is the number-one priority. The scooters are disinfected regularly, including every time a scooter is handled for a battery swap, re-balancing, or maintenance. Voi uses high-quality anti-viral cleansing agents that last up to 24 hours. Our mechanics and logistics teams are equipped with sanitary kits, including masks, gloves, and anti-bacterial gel, and they follow social-distancing guidelines. We are testing a new handlebar material, a copper tape that kills the coronaviruses in minutes. Using reputable third parties, we take viral and bacterial tests of randomized samples of scooters to make sure we are keeping things clean. We educate our users about how to keep themselves safe and encourage them to use hand sanitiser and wear gloves.
What will Voi and Cambridge do to keep streets safe from e-scooter clutter?
We will work together to make sure there are clearly designated parking areas for e-scooters, through technology and incentives. We manage our fleet daily to make sure that it is not causing clutter and will be able to quickly identify any problem areas where we can look at initiatives to prevent it happening in the first place.
E-scooter users travel at high speeds and pose a danger in traffic for other road users. How are they safe?

Voi's e-scooters are capped at a speed of 15.5 mph, per U.K. regulation. Regular bicycles often reach the same speed or higher.
During the trial phase in Cambridge, we will cap scooter speeds at 10 mph.
We have the ability to implement slow-speed zones in selected areas, where the e-scooters automatically slow down to walking pace.
It is also important to differentiate between private and shared e-scooters. Private ones often reach much higher speeds, even though it is not permitted.
Won't e-scooters just be a menace on the streets and dangerous for some road users, e.g. the visually impaired?
It's our job to educate riders about traffic rules using technology and pop-ups. Safety is always our number-one priority and we tackle this through rider education and technology. We are the first e-scooter company to offer an online traffic school, Voila Ride Like Voila. We will work with councils to control the number of scooters on the streets and their locations. We can incentivise people to park them correctly, and we will employ local ambassadors to educate users on riding and parking safely. Our local teams will work closely with police to ensure that the scooters are not a menace for other road and pavement users, particularly groups who may feel that they are at high risk. When we deploy infrastructure (such as parking racks or charging racks) we abide by the relevant government guidance and recognised standards for street furniture and design in public spaces. In the U.K., we follow the details laid out in the Manual for Streets 1 and 2.
What will Voi do to keep Cambridge safe for those with visual impairments or hearing difficulties?
At a national level, we are working closely with associations representing those with sight loss, including the RNIB, Guide Dogs, London Vision and Thomas Pocklington to ensure that we understand the needs of as many vulnerable people as possible. As a result of our conversations, the sector has published advice for e-scooter operators and local authorities participating in trials. We evaluate all of our operations against this advice.
Voi has held briefings for local branches of inclusivity groups prior to service launch. Following service launch, further dialogue is planned on a regular basis.
In Cambridge, we will elicit feedback from these as well as other relevant groups within the first few weeks of launching the trial, so that we can make sure Voi's operations do not add to street clutter or cause obstacles.
Based on consultations with groups representing vulnerable road users, Voi has added additional content to Ride Like Voila (Voi's online traffic school) and its app to educate riders about the safety of vulnerable road users, including how to best park a scooter so it can be detected by a cane. All Voi U.K. HQ staff and Voi's Cambridge management team are required to complete RNIB training including (i) Visual Awareness Training and (ii) Pan Disability Awareness Training.
How will Voi stop people from riding on the pavement?
Riding on pavement is illegal in the U.K., and education plays an important role in making sure that users abide by the rules. Our free online traffic school, Ride Like Voila, teaches users the rules of the road and rewards users with ride vouchers when they complete modules. We actively communicate to riders that they should never ride on pavement throughout their journey, from in-app communications during the onboarding flow through to ongoing road safety communications.
How will Voi prevent people from riding while intoxicated?
Users have a huge responsibility, not only towards themselves but towards other road users and pedestrians. We believe that education is a powerful tool, such as the RideRide Like Voila e-scooter traffic school. Voi has developed an in-app reaction-time test that is activated during certain hours of the day when people are likely to be imbibing. The test aims to educate users on why drunk riding is unsafe (impacts reflexes, balance, overall judgement), and to encourage them to consider alternative modes of transport if they get poor results in the cognitive test. Voi can also implement no-parking zones in areas with bars and nightlife to discourage scooter use.
How does someone report a problem, or a scooter that is misplaced or blocking traffic?
Voi has a customer service helpline (08003768179) and a support email (support@voiapp.io).
How sustainable are Voi's e-bikes?
Voi's e-bikes are a safe, sustainable choice of transportation. Similarly to e-scooters, e-bikes are an important catalyst for people to leave their cars behind when travelling in dense urban areas.
Third-party research and our preliminary assessments show that the environmental performance of e-bikes on par with that of our e-scooters (Travel and Mobility Tech, 2019). This is due to several reasons, for instance:
Suppliers have longer experience in e-bike design and manufacturing; hence lifespan is expected to be similar or potentially longer than Voi's V3X.
E-bikes are generally used for longer distances than e-scooters; hence the mileage is higher.
As the user assists the e-bike propulsion, e-bikes are more energy-efficient than e-scooters.
Factors that might lead to higher emissions would be the higher weight of e-bikes and the need to test and adapt our e-bike maintenance regime, which is more established for e-scooters.
Voi is committed to ensuring our e-bikes have a similar environmental performance to our e-scooters. We will also ensure transparent and precise carbon accounting for this service by conducting a carbon footprint assessment to verify the above assumptions and measure all environmental impacts of our e-bikes.
As a company, Voi has been operating carbon-neutral operations since January 2020.