22,889 Journeys across Two Cities in 222 days, but where should we go next?
---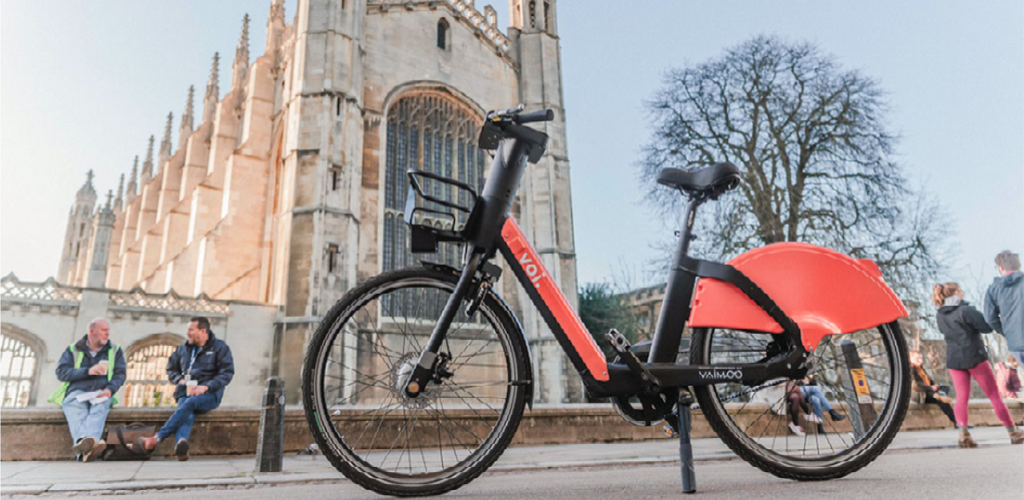 22,889 journeys across two cities in 222 days, but where should we go next? That's the question being asked at Cambridgeshire & Peterborough Combined Authority after a paper to consider the next steps for the use of electric bikes (e-bikes) within Cambridgeshire and Peterborough, was discussed at a meeting of the transport committee yesterday (8 September).
Trials, in partnership with micro mobility operator Voi Technology, for the use of e-bikes in Peterborough and Cambridge, have been taking place since February 2021. They are part of a plan by the Combined Authority to get people to think differently about how they travel from A to B within the two cities and connect with public transport options, instead of using their cars.
Results have been positive with the number of journeys completed on 300 active e-bikes totalling 65,975km, (that's the equivalent of traveling from Cambridge to Norwich and back over 500 times). This all helps Peterborough and Cambridge to meet their targets to improve air quality through ultra-low emission and to provide a cleaner and healthier environment to live and work in.
Through the trial, the Combined Authority has been able to gain insights into the demand for the e-bikes and how they are being used in both Peterborough and Cambridge.  It's also been proven through other case studies that e-bikes can support longer and hilly trips, shortening their travel time.
The Transport Committee was asked to consider a recommendation to expand the e-bikes trial outside the current areas, and into market towns and other rural areas in the region to provide another alternative to the car.
The recommendation was approved and will now be presented at the Combined Authority's board meeting for final approval on 29 October.
Some initial calculation of cost to implement a network has been completed and comparisons have been made to similar schemes in other regions. But officers will now collaborate with Cambridgeshire County Council, Greater Cambridge Partnership, district councils, and local cycling groups to develop the right network to help connect cyclists to travel hubs for onward journeys and main centres, providing access to work and to social and leisure activities.
Whilst discussing the Combined Authority's active travel activities, the Transport Committee also considered a recommendation to extend the electric scooter (e-scooter) trial, which is currently taking place in Cambridge.
The e-scooter trial, which has been running for almost a year, in partnership with micro mobility operator Voi Technology, is due to end in October 2021.
Since the trial's introduction, the emerging trends and lessons learned have enabled the Combined Authority and the community to better understand the habits of the e-scooter users.
This information is being collected to support submissions made to the Department for Transport (DfT), as they track the progress of this and 31 other e-scooter trials across the country. DfT introduced e-scooter trials to support a green restart of local transport in the UK, and to help mitigate reduced public transport capacity during the Covid-19 pandemic.
The Transport Committee agreed to recommend that the trial period in Cambridge be extended to March 2022, to continue to gain learnings from the programme. This recommendation will also be presented at the Combined Authority's board meeting for final approval on 29 October.
Following the transport committee meeting,
Dr Nik Johnson, Chair of the Transport and Infrastructure Committee and Mayor of Cambridgeshire and Peterborough said:
"Approval of the recommendations today, shows a clear commitment by the Combined Authority and our transport team to think outside of the conventional transport box, and look to provide a network of transport options for communities across Cambridgeshire and Peterborough.
"It's important that we all change the way we think about how we get from A to B, and the use of an e-bike and e-scooter could, where appropriate, provide a valuable ultra-low emission alternative for the first and last mile of our journeys.
"It's no secret that the carbon emissions across Cambridgeshire are 25 percent higher than the rest of the country, and I am committed to finding solutions that will improve air quality, particularly within our towns and cities. And I'm convinced that electric modes of transport, like e-bikes and e-scooters, provide the key as we look to not only reduce the impact on our climate, but to improve the health of people living in this region."