E-bikes & e-scooters
---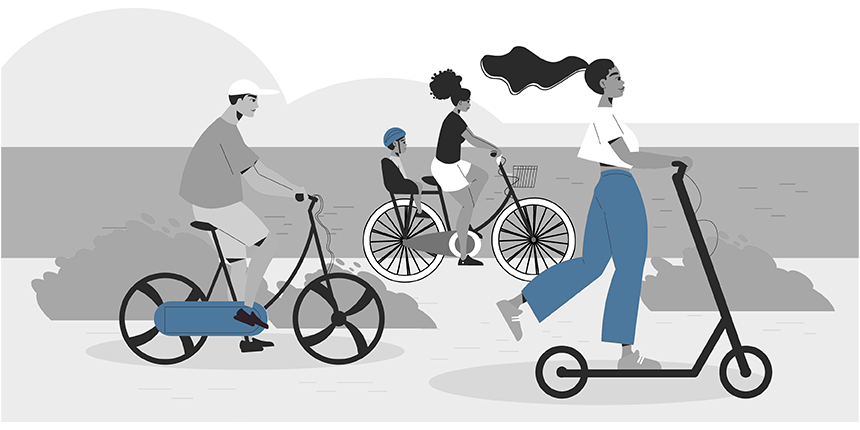 The Future of Cambridgeshire Travel
This is part of the £2.9m that the Combined Authority has announced to improve cycle and pedestrian facilities across the region to get more people walking and cycling.  These measures all form part of a broader vision from the Combined Authority for healthy and sustainable travel post Covid.
What are we doing for e-vehicles?
European e-scooter operator Voi have been appointed to provide e-bikes and e-scooters in the centre of Cambridge and e-bikes in Peterborough.  The vision is for e-bikes to be provided across the region, including in market towns.
Electrically assisted bikes provide a safe and healthy alternative mode of travel to the private car, bus or train which enables the user to practice social distancing while also helping to reduce carbon emissions and improve their fitness at the same time.
E-scooters allow visitors, tourists, students, and commuters to make quick short journeys across town.  It is thought that 60% of current car journeys are only 1-2 miles in length and e-scooters and other modes of active travel could help significantly reduce unnecessary reliance on cars for these short journeys.
The partnership between Voi and the Combined Authority will aim to reduce CO2 emissions by 400 tonnes across the region by August 2021.  On average, 106 deaths per year in the Greater Cambridge region alone can be attributed to air pollution, with emissions from cars and emissions per capita 50% above the national average in Cambridgeshire.
A great way to get around Cambridge is by e-scooter and a trial of the technology started in late 2020. Scooters can get you from place to place rapidly – there are geo-fenced slow speed zones for safety's sake and outside of these zones, top speed is 15mph. The scooters will not function if they are driven past the zone's invisible boundary.
The Scheme will…
Offers rides at £1 to unlock + £0.20 per minute
Offer Voi subscriptions for £10 a day/£40 a month alongside subsided Voi-4-All Passes for low income groups at £10 per month
Support key workers with free rides and support local businesses to enable them to offer, or extend, delivery services
Launch #RidewithVoila, an online traffic school, for local riders, with incentives to encourage riders to take a course before they ride
Create over 50 Full Time Equivalent jobs in the region
Integrate fully with East Coast rail operator LNER and lomob as the network provider's preferred partner
Provide safety pop-ups and helmets at launch events to support rider safety
Integrate with the Cambridgeshire Cycling Campaign
How can e-scooters help to solve the transport problems in towns and cities?
E-scooters and E bikes are just the start of a revolution in how we move around cities.
They allow for personal point-to-point travel, which means that a rider is not tied to a timetable or a route. During the pandemic, they also provide a method of travel that allows for social distancing.
They are particularly useful for connecting the last or first mile of travel, when there can be a temptation to use a car or taxi and for journeys of 1 to 3 miles, which make up 60% of all road trips in the U.K. Our aim is that e-scooter and e-bike use should be affordable, particularly for those who need to go farther than they can walk and don't have access to a car.