Cambridge South a concrete reality as Minister announces full funding
---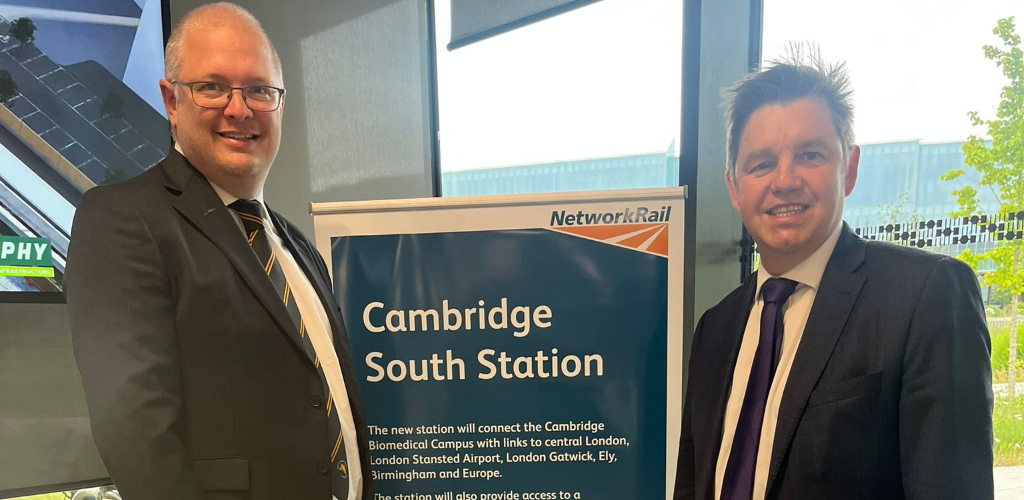 Years of campaigning by the Combined Authority and others for a new station at Cambridge South paid off today when the rail minister, Huw Merriman, visited the site to announce £211 million from the Government to get the station into service by 2025.
Work is already well under way on the Cambridge South Infrastructure Enhancements Cambridge scheme – CSIE – at the Cambridge Biomedical Campus.
Serving the city's southern fringe, the new station can potentially connect the Cambridge Biomedical Campus with destinations like central London, Stansted Airport, Ely, Birmingham, and Europe, via London St Pancras.
It will also widen direct access to a booming area of high-quality employment and do much to relieve local congestion by supporting environmentally sustainable transport in Cambridge.
The Cambridge South station is necessary to embrace rapid economic and population growth centred around the biomedical campus, a hotspot for intensive development.   Importantly, the station will plug into East West Rail and make possible a knowledge, innovation, and investment corridor between 'Oxbridge' – the UK's two oldest universities – and the hot tech and cutting-edge research and pharma enterprises that cluster around them.
With the East West Rail line expected to call at the new station, job and housing opportunities will extend far beyond the cities of Oxford and Cambridge, spreading growth opportunity across their whole area.
Mayor of Cambridgeshire & Peterborough, Dr Nik Johnson
"Full funding for Cambridge South is a very good result, coming straight after positive news on how East-West Rail will move forward.   The Combined Authority is proud to have pushed for Cambridge South in the vital early stages, cooperating to fund the business case that demonstrated to Government the need and value of a station here and catalyzed today's happy outcome.
"This station will mean hospital staff and visitors to Addenbrooke's and Royal Papworth can get there without driving, the same for commuters flooding to the growing biomedical campus, and better travel links for thousands of residents.
"We want good growth for our region and public transport is the key. Cambridge South will help unlock the full potential of our economy.  It will link homes and jobs into existing and planned public transport so Cambridge Biomedical Campus workers will have a proper alternative to the car, cutting road congestion, travel stress, and improving air quality.
"As we watch Cambridge South take shape, the Combined Authority will continue to champion not only this important project, but also the broader transport improvements our region needs to squeeze the full value out of it, like getting the Ely railway Junction bottleneck sorted. Just this morning I pressed the Rail Minister, Huw Merriman, for a commitment to progress improvements at Ely Junction, and will continue to do so until the job is done.
"Well-connected local-regional-national transport is the base for growth that puts people first and endures. Nothing else will do.  The new Cambridge South station will improve local and international connectivity, allowing Cambridge's research, science, and innovation hub to evolve and attract even more brilliant people and companies, strengthening the UK's position as a global trailblazer in science and technology, and creating lasting growth with the new jobs and new skills our local people need."
The anticipated final cost will be £210.8m. Cambridge South is now primarily funded by the Department for Transport, but the initial development funding came from Cambridgeshire & Peterborough Combined Authority, AstraZeneca, and the Greater Cambridge Partnership. The project is managed by Network Rail and is being delivered by John Murphy & Sons Ltd.