E-scooters return outside the city as Cambridge clocks up 2 million rides on Voi e-scooters and e-bikes
---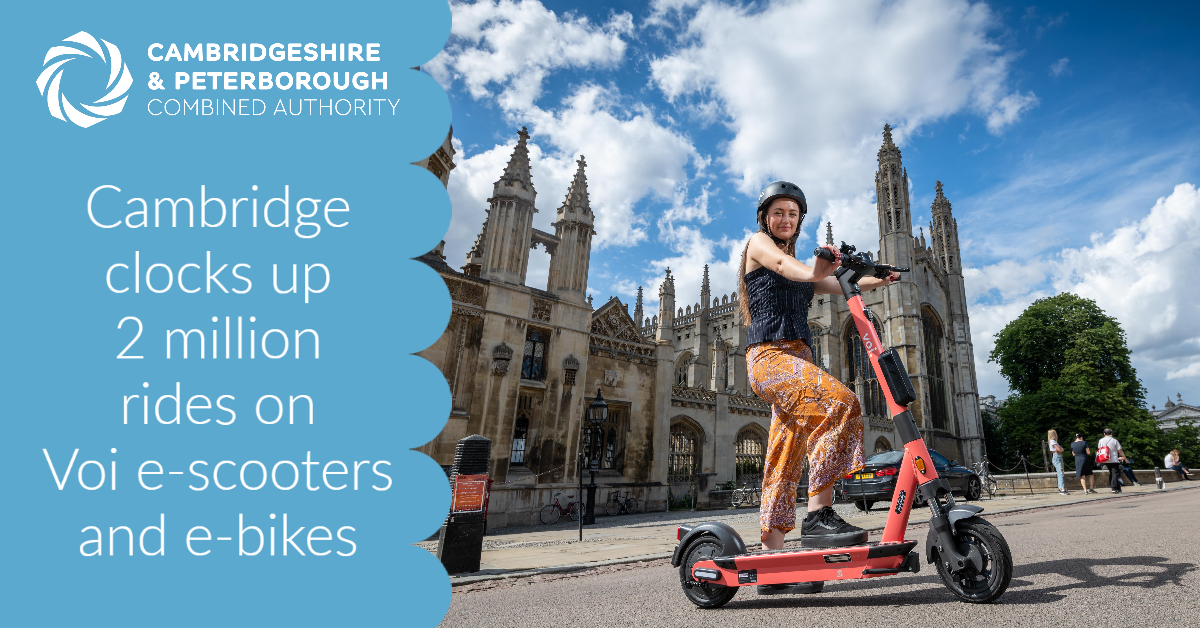 People outside Cambridge City will be able to benefit from eScooters as they are now available in Impington, Histon, Girton and Milton
The news comes as Cambridge hits the milestone of two million trips on e-scooters in the city over the last three years.
Since the e-scooter trial was launched in partnership with Voi in October 2020, public hire e-scooters and e-bikes have become an important addition to transport in the city, with just over 135,000 people in Cambridge now signed up to Voi, using e-scooters and e-bikes to commute to work and college.
They are a much greener way to travel and since their introduction in Cambridge have replaced over 668,000 car journeys, clocking up over 2.9 million miles and reducing CO2 emissions in the city by an estimated 318 tonnes.
Voi has worked with several organisations to improve riders' experience, including partnerships with Cambridge United Football Club, Cambridge Science Park and Cambridge University to install e-scooter parking racks helping to encourage tidy parking. In the coming months there are further plans to install parking infrastructure across the city making it easier for people to get around.
In addition, Voi organises regular equalities forums hearing from both users and non-users such as local charities representing visually impaired and disabled people. This work has helped shape rider education. For example, riders are able to take part in monthly webinars detailing topics such as the Highway Code and how to ride responsibly including recognising a wide-range of different road users.
They also rolled out a newer version of the  e-scooter, the V4, which has indicators, to the city, in July 2022.
A recent survey by Voi among riders in Cambridge found that almost a quarter of respondents use e-scooters and e-bikes to travel to and from work and 28% for social events.
The survey found that most people like them because they're easy to use, enjoyable, and promote more sustainable transport options.
Dr Nik Johnson, Mayor of Cambridgeshire and Peterborough, said:
"In the past three years, electric scooters have transformed the way people travel across Cambridge, allowing commuters and visitors to enjoy quicker, healthier journeys.
"It's great that the benefits of e-scooters will now stretch beyond the City, enabling people who live outside of the center to travel in for work, education and to see friends and family."
"Active transport solutions like this offering a cleaner and more efficient way to get around will become a vital part of our future public transport network."
Jack Samler, Regional General Manager for Voi UK, Ireland and France, said:
"Our Cambridge trial has grown in popularity, with more and more people choosing to use scooters and e-bikes for short trips to work, for socialising, to go to the shops or appointments and to get to university.
"Since the scheme was launched in partnership with Cambridgeshire and Peterborough
Combined Authority, we've increased the number of scooters and expanded the scheme so more people can benefit from using e-scooters across a wider area 24 hours a day, providing a new, easy-to-use and affordable means of transport."
Dr David Braben, Chair of Cambridge Ahead Transport Group & President and Founder, Frontier Developments, said
"E-scooters and e-bikes are an increasingly popular new way of getting around our city, offering a flexible and sustainable option, either on their own or as part of a longer journey involving other types of transport like the train. This creates a real opportunity to reduce carbon emissions, ease congestion, and improve accessibility.
"As the Voi trial reaches the important milestone of 2 million rides, we have to think about how the city region can expand access to these new transport modes and provide the right infrastructure so that more people are able to benefit."
As part of Voi's mission to provide safe, sustainable and reliable micromobility for all, Voi riders can take advantage of Voi for All discounts which provide discounted travel to people on low incomes, including refugees and asylum seekers, disabled people and people over 65, to help with the cost of living.